There's never been a better time to straighten your teeth with the most advanced clear aligner in the world. Our office is proud to be a certified provider of Invisalign clear aligners, which give you a clear, convenient and comfortable option to achieve the smile you've always wanted.
Why Invisalign treatment?
---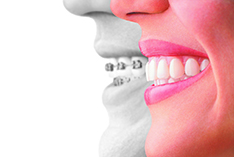 Invisalign and braces produce the same results, just a different way to achieve those results. Compared to traditional metal and clear (ceramic) braces, Invisalign offers these fantastic benefits:
Virtually invisible. No one will know that you are straightening your teeth and improving your function.
You can eat whatever you want. With Invisalign there are no food restrictions that often come with braces. The sticky, chewy and hard foods that you can't eat with braces? No problem with Invisalign.
Oral hygiene is much easier. Just remove your aligners and brush and floss normally. No food getting stuck in your braces and no slimy plaque left on your braces. Your gums will stay pink and healthy. Your dentist and hygienist will be very happy.
No emergency appointments. Braces can break or the wire can slide and start to poke your cheeks and tongue, causing pain or discomfort. This will require additional appointments in the office to make the needed repairs. These extra and unforseen trips to the office can disrupt one's busy work or school day.
Much more comfortable. Braces, especially in the first few weeks, can irritate your lips, cheeks and tongue. Sharp edges can cause sores or callous. Broken braces will cause discomfort, sometimes in the middle of the night. Invialign aligners are smooth and very comfortable. The aligners adapt very closely to your teeth so they are not bulky or uncomfortable.
Very convenient. There are fewer in-office appointments needed with Invisalign. Appointments are typically scheduled every eight weeks and most of those appointments take only 5-10 minutes. In some cases, our doctors can monitor your progress virtually so you have even fewer in-office appointments.
You can track your own progress. With the Invisalign app, you can check your progress, make sure the aligners are fitting well and set reminders for when you are ready to switch aligners so you don't fall behind in treatment progress.
The Invisalign Treatment Process
---
Your First Consultation
At your initial consultation, we will take diagnostic information including photos, xrays and a digital scan of your teeth. You will meet with Dr. Pezza and discuss your orthodontic needs in a private, comfortable setting. We'll evaluate whether Invisalign treatment is right for you. We will show you how Invisalign works, how long treatment will take to complete and discuss the cost of the treatment. We will schedule enough time for you to have all of your questions answered.
Your Custom Treatment Plan
We use a state-of-the-art digital intraoral scanner called the iTero. This is not an xray. The iTero scanner is used to create fast, precise 3D digital images of your teeth. A complete scan for Invisalign takes about five minutes. Then we map out a precise treatment plan, including the exact movements of your teeth and determine how long your treatment will be. You can even see how your teeth will move and preview your expected new smile.
Your Invisalign Clear Aligners
Your aligners will take about four weeks to be customized, manufactured and delivered to our office. Your custom-made aligners will be made of Invisalign's proprietary SmartTrack® material. They're virtually invisible, so most people won't even notice you're wearing them during your teeth straightening. You will receive a series of aligners. You'll be asked to wear each aligner 22 hours/day and change to the next one every seven days. Only remove the aligners to eat and brush.
Invisalign Attachments
If you know someone who wears Invislaign you might have heard about the attachments, as most Invisalign patients need them. Attachments are critical in achieving the best possible result. They are tooth-colored buttons or anchors that get bonded directly to some of your teeth and the aligner snaps over them. They engage with the aligners to allow the aligner to fully grasp the tooth and move the tooth more effectively and efficiently. It's like using a doorknob to open a door or a handle to open a drawer. The technology that was developed to create the attachments is what allows us to treat cases with Invisalign that we were not able to do a few years ago.
Your Progress
As you wear each set of aligners, your teeth will gently and gradually shift into place. Each aligner generally moves a tooth about 0.25mm, so the movements are gradual and should not create much discomfort, unlike braces. You can use the Invisalign app to track progress and set reminders when to move-on to the next aligner.
Taking Care of Your Brand New Smile - The Retainers
The most important part of your treatment is what happens at the end - your retainers. Teeth will move throughout your entire life and the only way we have to guarantee your teeth and smile stay straight is by wearing your retainers properly. When your treatment is complete we will discuss your retainer options. The retainer instructions are pretty simple - wear the retainers every night for the rest of your life... or for as long as you want your teeth to stay straight. Lifetime retention is very important.
To learn more about the Invisalign system and all your orthodontic treatment options, please feel free to schedule a complimentary appointment at our office. We look forward to meeting you and helping you achieve a smile that's made to move!
Invisalign and the Invisalign logo, among others, are trademarks of Align Technology, Inc., and are registered in the U.S. and other countries.